HAVE FUN WITH OUR DENVER ROPE MIXER
We offer 5 customizable rope patterns. Utilize the Custom Colored Denver Rope Mixer program below by filling in the Color Boxes. We offer five patterns; One to Four Tracer, Half/Half, 50/25/25, Snakeskin, and Camouflage. (
NOTE:
click on large button to change next color)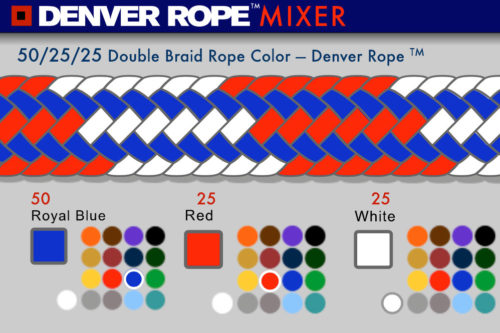 Download our Rope Catalog
, featuring our Custom Boat Lines, Dock Lines, Anchor Lines, Mooring Lines, Tow Lines, Buoys, Fenders, Bulk Rope, Houseboat Lines, Tow Bridles, Rope Information and more.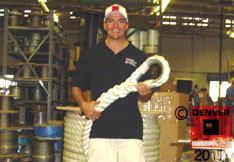 ABOUT OUR COMPANY
Denver Rope is a factory direct distributor located in Denver Colorado. We ship world wide. Owner, Operator John inspects 2-0" Mooring Line.

MADE IN THE USA
All our rope and boat lines are custom manufactured in our 40,000 square foot warehouse in Miami, FL. Our business has been family owned since 1960.
(more)

QUALITY CONTROL
Attention to detail sets us apart. Splices are hand sewn and whipped for extra durability and holding power.
(more)

CONTACT US - REQUEST A QUOTATION
Contact:
John, for Rope Consultation
303-809-7274

ROPE COLORS
choose from a wide range of solid colors for your custom colored rope.
(more)

DENVER ROPE MIXER
design your own custom colored double braid nylon or polyester colored rope.
(more)

CUSTOM BOAT LINES
we offer the Best Customer Specified made-to-order Custom Colored Boat Lines, Dock Lines, Anchor Lines, Mooring Lines, and Tow Lines for your power boat, wakeboard boat, ski boat, houseboat, sailboat, or motor yacht. All proudly made in the USA. Need a special assembly of rope and marine hardware, we can do it!
(more)

ROPE SELECTION GUIDE
specify the ideal rope materials and construction for your purposes. Materials: Nylon, Polyester, Amsteel®, Polypropylene, & Manila. Construction: Double braid, Solid braid, 3-strand twisted, or 12-strand twisted.
(more)

MARINE HARDWARE & ANCHOR CHAIN SELECTION GUIDE
print out this page to help you select the correct rope, anchor chain, windlass chain, & marine hardware combination for your boat. We offer special assemblies of rope, chain, and marine hardware. Also view a wide range of hooks, shackles, anchor chain, and
(more)

HEAVY MARINE, USCG, USN, TOW HAWSERS & MOORING HAWSERS
Ask us about our complete line of large diameter mooring lines, tow lines, dock lines, and hawsers for large vessels and industrial applications. All made to the customer's specifications.
Heavy Marine applications like tugboats, container ships, oil tankers, barges, oil rigs, mining, heavy construction, passenger ships, super yachts, naval and coast guard vessels, towing vessels, harbors, and commercial docks.
(more)

LARGE SELECTION of BUOYS & FENDERS
We are a distributor for the best fender & buoy manufactures, of mooring buoys, floats, bumpers, fenders, net buoys and anchor floats. (more)

BOAT LINE DEFINITIONS & MARINE APPLICATIONS GUIDE
Learn the basics on how to use and specify dock lines, mooring lines, anchor lines, anchor chain, and tow lines before you place your custom order with Denver Rope.
(more)

ANIMATED KNOT TYING
Go to Animated Knots by Grog and select "Boating" knots.