The Best Custom Boat Lines, Custom Colored Ropes, & Special Assemblies made to Your Specifications

Denver Rope through our partnership with BEXCO is proud to offer Custom, Made-to-Order, Single Point Mooring Hawsers and Deep Sea Mooring Hawsers

We custom assemble all types of Mooring Lines, Dock Lines, Anchor Lines, Mooring Hawsers, Towing Lines, Towing Hawsers, Towing Bridles, Winch Lines, and Recovery Tow Ropes using the best materials and methods the industry has to offer. All our lines are custom made-to-order per the customer's specifications. Please consider the information below in advance of emailing us with your Request For Quotation. Denver Rope is a factory direct—wholesale distributor for Miami Cordage lowcated in Miami, FL. A family run business serving the marine industry since 1965. Bexco is one of the few type approved and certified producers of Single Point Mooring Hawsers in the World. These hawsers, which essentially connect oil and gas majors' points of supply with transportation in the mid-stream of the supply chain process, need to meet the most rigorous standards of quality and reliability in the field. Bexco's SPM DF8 (Deltaflex®) 8-strand plaited, BL3 (Ultraline® Polyamide) load bearing cores with a braided cover, and DB12 (Double Braided Polyamide) 12-strand braided with a braided cover mooring hawsers fully conform to the requirements of the OCIMF guidelines, following an exhaustive documented OCIMF prototype test program. We use only the best quality yarns of multifilament nylon, high tenacity polyester and blended fibers to manufacture our mooring system hawsers. The hawser can either be a single rope or a grommet. In the grommet configuration two legs are laid parallel.


---
Denver Rope — Single Point Mooring Hawser Diagrams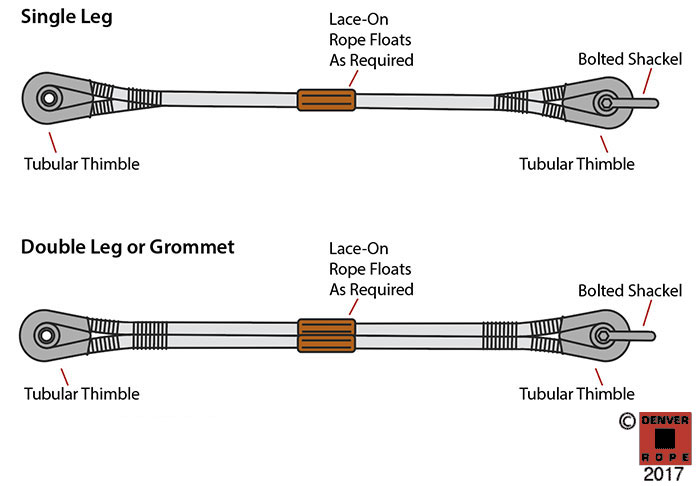 ---
Single Point Mooring Hawsers, Mooring Hawsers, and Mooring Lines
- Please consider that all of our Single Point Mooring Hawsers, Tow Hawsers, Mooring Hawsers, Tow Lines, and Mooring Lines are custom spliced-to-order with associated lead times. For faster turn-around times we do stock pre-spliced Poly-Dan Blue Mooring Line Coils—Ready to Ship. These lines are Polypropylene, 8-Strand, 720ft Overall Length, with a 6ft canvas covered eye splice on each end. These lines can also serve as a Tow Hawser or Mooring Hawser. Upon purchase of a coil, we can cut and re-splice the rope into separate lines, custom spliced-to-order.
Poly-Dan Blue Heavy Duty Mooring Line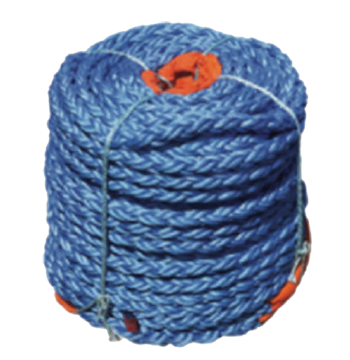 Our large diameter 8-Strand Poly-Dan Blue Mooring Lines are made from high-strength polypro. A perfect mooring line for large vessel, these limes are 720' in length with 6' canvas covered eyes each end.
Manufactured by DSR in Korea in accordance with ISO 900:2008, Lloyd's certified
Mill Test certificate provided with each line
Part#

Nominal Diameter

Circ (in)
Tensile Strength (in)
PPR8SD2720
2
48
6
6,7200
PPR8SD214720
2-1/4
56
7
78,000
PPR8SD212720
2-1/2
65
7.5
91,500
PPR8SD258720
2-5/8
68
8
103,500
PPR8SD3720
3
72
9
135,000
PPR8SD314720
3-1/4
80
10
171,000
PPR8SD4720
4
100
12
243,000
Heavy Marine Hawser Rope Hardware & Hawser Rope Fittings
- For information regarding Hawser Rope Hardware & Hawser Rope Fitting to include Towing Thimbles, Mooring Thimbles, Rope Couplings, Rope Connectors, Shackles, Thimbles and Links, please continue to our HEAVY MARINE HAWSER ROPE HARDWARE & HAWSER ROPE FITTINGS webpage for additional information for your consideration.
[Continue to HEAVY MARINE HAWSER ROPE HARDWARE & HAWSER ROPE FITTINGS webpage]
---
Mooring System Example One Diagram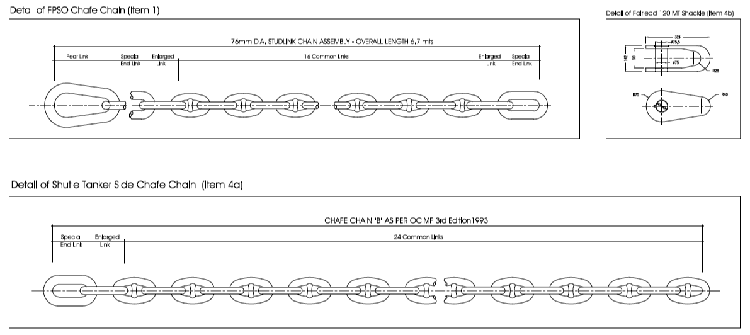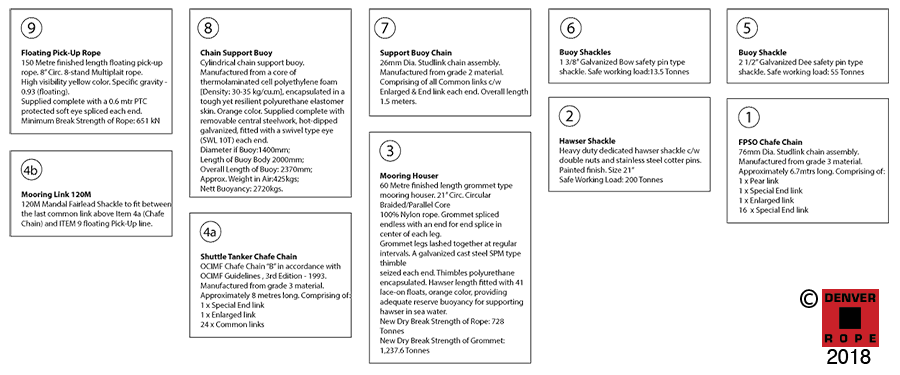 ---
Mooring System Example Two Diagram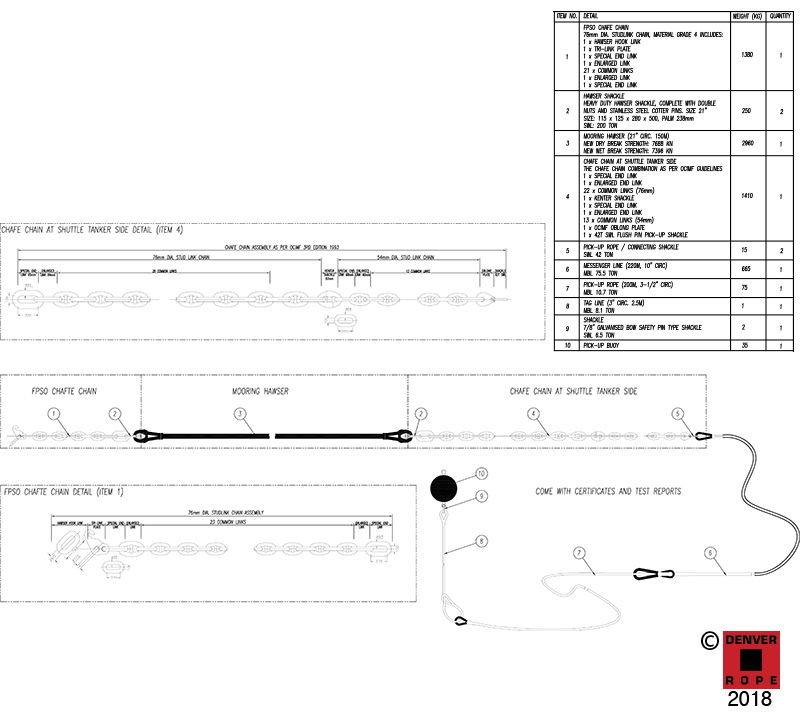 ---
Conversion Factors and Information
1 inch = 25.4 mm
12 inches = 1 foot
1 foot = 304.8 mm
1 meter = 3.28 ft
Circumference of a Circle
Circular = PI x Diameter
Weight
1 Pound = 0.4536 kG
1 kG = 2.2046 lbs
Force
1 Newton = 0.2248 lbs
1 kN = 224.8 lbs
Standard Hawser Lengths & MBS/WLL
50 ft / 100 ft / 300 ft / 600 ft / 720 ft / 900 ft / Custom
Where 1 Fathom = 6 feet
Minimum Breaking Strength (MBS) to Working Load Limit (WLL)
WLL for Very Conservative = MBS/10
WLL for Standard Conservative = MBS/5 (Denver Rope Selection)
WLL for Less Conservative = MBS/3
WLL = Engineered Calculation

Click here to download our Diameter Conversion Chart PDF

Click here to download our Inches to Millimeter Conversion Chart PDF
---